Bike chain lube
Clean, efficient & quiet drivetrain
Quality Cycling Products
Long lasting chain lubrication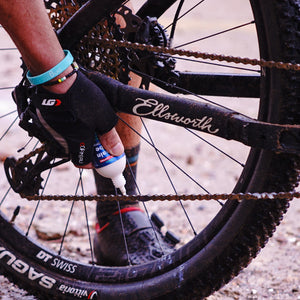 Why Squirt Chain Lube Works
We all like a clean, smooth-running and quiet drive train - even in dust and mud where we sometimes prefer to ride. Squirt does just that.
Squirt lube is a wax in water emulsion, the first of a new concept in chain lubrication. When applied to the chain, the water evaporates leaving behind a solid layer of lubricating wax. This dry layer does not attract dirt or dust and the chain stays clean. 
Squirt contains different waxes for optimum performance, including efficient lubrication and adherence to the chain. Because its dry, build-up doesn't occur and no grinding paste forms, extending drive train life.
As a drip lube, Squirt's efficiency is almost unrivaled. Various tests (on equipment measuring to one-fiftieth of a watt) have illustrated its ability to save watts, as indicated on the combined graph published in VeloNews.